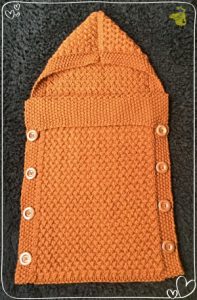 Following a great uptake and feedback for my Baby Grow Bag  , just released is the Martley Sleep Sack.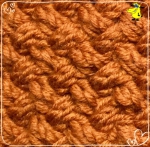 This baby sleeping sack / papoose comes in four sizes starting at newborn.  The main body of the work is a continuous lattice pattern with button bands. A turn down lip in moss stitch, which has loop buttonholes so it can be secured, covers the top 2 buttons  and prevents catching of face or hands.

A detail along the bottom edge makes it fold perfectly and helps keep its shape.  Knitted in one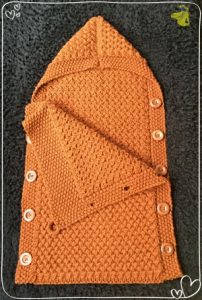 piece, with only one seam to create the hood. The lattice work looks effective, is not over complicated to achieve. Knitted in chunky wool.
Knitted on approx 5 mm (US 8) needles , you may  need to change up or down a size after gauge test.
It takes between 560m to 1320m  dependant on size knitted. The sample shown is in Schachenmayr Extra Merino Big (ball 50g 80m). You will need  10-16 again dependant on size knitted, remember to use quite a big button so little mouths can't chew them off and swallow them, but also you want something that is not so small its difficult to button up when in a rush or cold, sample has 1″ buttons.
You can buy a project pack with Yarn, buttons and pattern. 
Next week I'm off the to the CHSI Stitches Trade Show so hope to bring back and share ideas and photo's for the new season ahead.
Happy Knitting
Deb (The Dizzy Tyke)