New pattern out today – striking Baby Sleeping Sack.
The 'Abberley Sleep Sack' , has several key design features..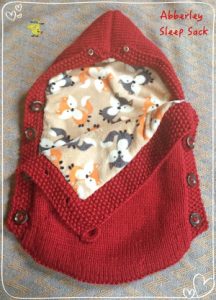 –  5 sizes 25"/15½", 27"/17", 28"/19", 31"/21½", 34"/23½"
– Only one short seam along the top edge of the hood
-Short rows along the bottom edge gives a curved finish
-Bottom fold line that helps keep its shape
-Fold down top edge covers the top buttons
– Knitted on 8mm needles.
– Bulky / Chunky yarn, its the perfect quick knit.