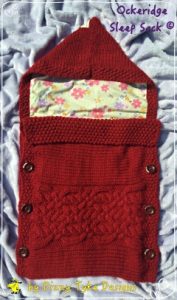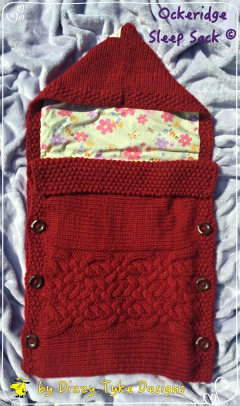 The latest Sleep Sack in my Dizzy Tyke Designs Range has arrived.
The Ockeridge Sleep Sack, is knitted sideways, with an eye-catching cable design thats effective but not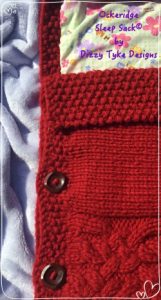 over complicated to produce. 
Knitted on 8 mm (US 11)needles and Super Chunky Weight yarn, it will grow quickly.  
Knitted in one piece it has  just a small seam across the top of the hood, so no complicated seam matching or picking up stitches.
Sample is Red Chunky Unbranded Pure British Yarn (from my last foray at Wonderwool Wales) and lined with cotton fabric ( from Oh Sew Crafty ). 
It comes in  5 sizes to fit from New Born to approx 2 years, 
finished sizes widths from 13" to 21",total length 27" to 37".
Its available for immediate download on Ravelry, Love Knitting and Etsy.
If your happy for a short delay in receiving your copy but saving on cost it can be bought direct from my my web site and I'll email you the PDF. 
I'll soon be opening a shop on NuMonday so watch out for opening offers. 
Keep in touch with updates on Twitter and Instagram.
Happy Knitting.
Deb